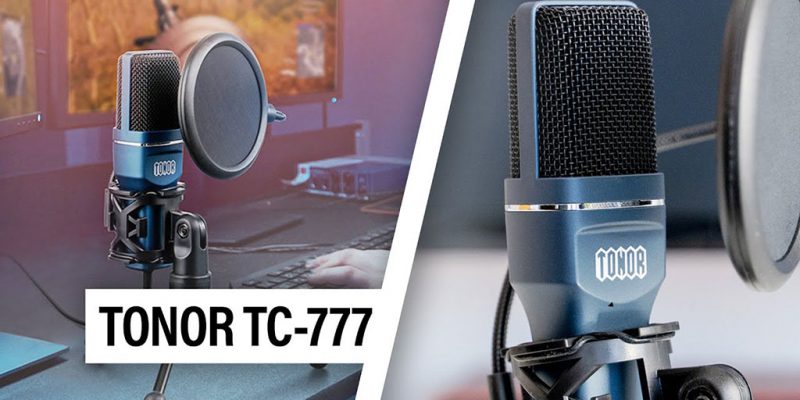 For recording audios, there are a few things you need. But the most important thing you need is a microphone. Because the quality of your audio majorly depends on the microphone you are using. In simple words, it should be the best.
Therefore, today we will be showing you the best mic in the marketing, the TC-777 Mic.
The Tonor TC-777 Mic is known to be an entry-level microphone. You can use it for general-purpose and it is one of the most amazing USB microphones that even comes with a tripod, a shock mount, pop filter or we should say that it consists of everything you need to get going at an affordable price.
In this article, we have reviewed the Tonor TC-777 Mic. Today you will get to know about this true gem. So what are you waiting for? Just scroll down and check out the complete review of Tonor TC-777 Mic.
Tonor TC-777 Mic Complete Review
Overall Designing- It is a very compact microphone that is ideal for desktop use. When you unpack it, you will see a kit that includes three pieces. Now, it is very easy and simple to assemble this microphone.
There is also an optional foam cover along with the microphone. So, if you are using this mic in any outdoor place, we will suggest you put that foam cover on. Whereas, it is not needed in indoor places. Because this foam cover is quite efficient when it comes to eliminating the wind noise.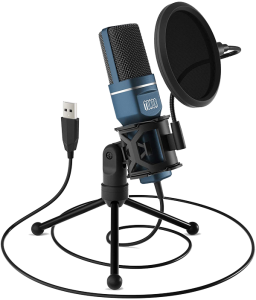 Another thing you will get is the shock mount. It seems to be a rubbery, spring-loaded cramp, which is specially designed to eliminate vibrations. It does the work quite well unless there is an earthquake, which makes the mic rumble.
But overall, the design is very attractive and gives it a professional feeling. Also, it is very compact in size. Thus you can keep it in a very small place at your desk only. So you really don't need to create much room for this cute little piece of goodness.
Sound Quality- No doubt, the Tonor USB condenser mic is very well constructed. But how good is it in picking up the sound? After all, this is its primary purpose. To begin, this mic uses a cardioid condenser pickup which offers excellent clarity in the sound.
Unlike any dynamic mic, it's range isn't limited to the area near the mic. So if even you stand at a distance. It will catch your voice loud and clear. But still, you will get the best of your voice when you are right in front.
Also, let me tell you that there is a zero pickup from right behind the mic. Meaning if someone stands right behind the mic it won't be picking up anything at all. Which is not a bad thing but a good thing. So you won't be having any additional noise while you are recording something.
If we talk about quality, you will be getting a sample rate of 16 bits at 44.1 kHz. This is quite an amazing quality, well sufficient for even recording music if you wish to do the same. Quite amazing for spoken words recording and streaming.
Compatibility- For most of the systems, the Tonor TC-777 Mic works on simple plug and play. It uses the USB 2.0 technology which makes it compatible with even older computers and laptops. Just connect the USB cable and you are all set to record.
Also, the TC-777 Mic is compatible with PCs, Macs, and also for the PlayStation 4. But let me tell you that over the PS4, you won't be having access to any advanced audio software. But when it comes to Mac and PC, you can simply you any third party software to advance your performance to be the best.
Another plus point is that it is a USB mic, which means your headphone jack will be completely free to use worthwhile. Thus, you won't be having any problem using the gaming headset while you stream. But keep in mind to select your computer's onboard sound as a secondary audio source for your stream.
Concluding Statement
So is the Tonor TC-777 Mic worth buying? Or is it just another kickoff? In general, you are not going to find any other piece like this one. Because it is one of the best condenser mics in this price range.
As you have already seen above, the construction quality is good, you get a durable tripod, well-designed shock mount, and least did you know but the USB cable is long enough to make all your work easier.
With the most astonishing sound quality, the Tonor TC-777 Mic is a complete package of goodness at a very affordable price. Going for the Tonor TC-777 Mic is surely going to be a decision worth taking.