A wise man by the name Seth Godin once said that a brand is the set of expectations, memories, and relationship that, taken together, account for a customer's decision to choose one product or service over another.
The saying speaks volume about the importance of getting it right. That includes when selecting the best formal shoe brand in India. It is no secret that the shoes someone wears speak a lot about their taste and personality. Equally important, it can be a great source of comfort or discomfort.
That includes a formal shoe that you may have to wear all day long. Therefore, do not just rush to buy a shoe for the sake of it. The shoe should be not only durable but also comfortable.
There is no better guarantee of getting that other than selecting a great formal shoe brand. The considerable number of formal shoe brands in India should not overwhelm you. In this article, we have a collection of the top 10 best formal shoe brand in India that will help you make a decision when buying. Read on!
Here is the list of Top 10 Formal Shoe brands in India :- 
Best Selling Bata's Formal Shoe – Bata Men's Synthetic Formal Shoes
Bata Company is a family-owned shoe brand from Swiss. The company produces their products globally for accessory brand and fashion. Their company is one of the largest in producing shoes in the whole world by the volume of shoes.
They make sales of up one million on a daily basis. Their retail shops are in 5300 places in more than 70 countries in the world.
The Bata shoe company in India started in 1931 as Bata shoe company Pvt. Ltd but later on changed to Bata India Ltd in 1973. The company has their shoe production factory in Batanagar. It received ISO 9001 certification in 1993 as the first manufacturing unit.
Lee Cooper, a famously known company for producing clothing that of high quality. They are an English company that also focuses on creating a range of formal shoes that are fabulous.
They target the mid segment. The company manufactures shoes that focus on quality and design. As a result, what you get will provide value for your money.
They also offer a range of shoe products that are comparable to other reputable shoe brands in the market. They combine both the comfort of loafers while also providing the formal look.
Red tape is a shoe brand that made for fashion, highly recognized for finesse and comfort they offer.
The shoe brand, endorsed by a famous Bollywood actor Salman Khan has many sells in India.
They produce shoe products that focus on design, and they have established their studios in Italy and UK. Their brand of shoes has reasonable prices, and the most sought-after shoes by men who are fashion conscious. One of their superior shoes crafted is their formal shoe with a buckle.
Metro is a popular formal shoe brand in India. It has more than 150 stores in the whole country. The brand is a huge deal in the men's segment of formal shoes.
They have designs which are at per with all the other international qualities and standards. The DaVinci Moccasins from New Race Collection has a beautiful craft and perforations.
Woodland entered the Indian market in the year 1992. The shoes, founded in Canada, and now known the world over for rough and tough places. They are the perfect ones for outdoor wear.
A formal shoe brand by Virola shoes. Alberto Torressi is a shoe brand that combines impressive comfort and style.  Designed ergonomically so that the feet can perfectly fit in them. They also provide optimum comfort keeping your feet in perfect balance.
Tresmode is a shoe design that draws a lot of its inspiration from the European lifestyle which is glamorous. They make shoes that are perfect for men that are fashion conscious.
The shoes provide an elite international look as they are synonymous with the chic urban footwear. These shoes are the best choice for any formal occasion, party nights and dinner meetings with clients in India.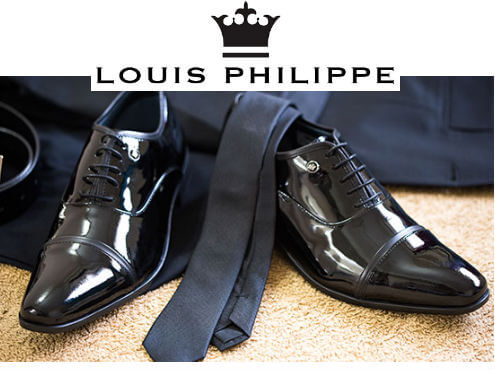 Louis Phillipe shoe brands, primarily known for their focus on producing quality shoes and the style they offer. Their company is a premier Indian brand, and they create the largest lifestyle brands in the Indian market. The brand's commitment is to ensure they produce shoes of high quality and also comfortable.
They are statement-making shoes recommended highly for anyone when you are going to a formal event. The Louis Phillipe Apron-Toe Derby shoes are perfect for formal occasions. They are not only stylish but also well-crafted with genuine leather.
Clarks is another shoe brand that came into existence in 1825 in Britain. It is on our list of the best shoe brands in India because it produces quality shoes.
The headquarters are in England. In addition to that, the company has gone ahead and developed more than 1000 branded stores and franchises in many parts of the world. The shoe company entered the Indian market in the year 2010. Over the years, Clarks has established more than 25 stores in the country.
The products are online in most of the large retail stores in India. The sixty step leather shoes by Clarks is an example of the formal pair of shoes by the company. They are comfortable for office wear.
Hush Puppies formal shoe brand, got its name from Basset Hound of dogs, hush puppies.
The company is famous for making comfortable, lightweight and quality shoes. These shoe brands are the most sought-after shoe brands in India. They combine high quality, and the design looks good.
Their best-selling formal shoes by hush puppies is the Hush Puppies Men's Marx Formal Shoes
Conclusion
If you are looking out for the best formal shoe brands in India, then check out these suggestions we have for you. We understand that identifying them is a problem. Fortunately, you have a sorted list that will help you in deciding on the perfect formal shoe that you need. They will provide elegant and high-quality formal shoes no doubt.
Also, Don't Forget to Check out the Top 10 Best Running Shoes